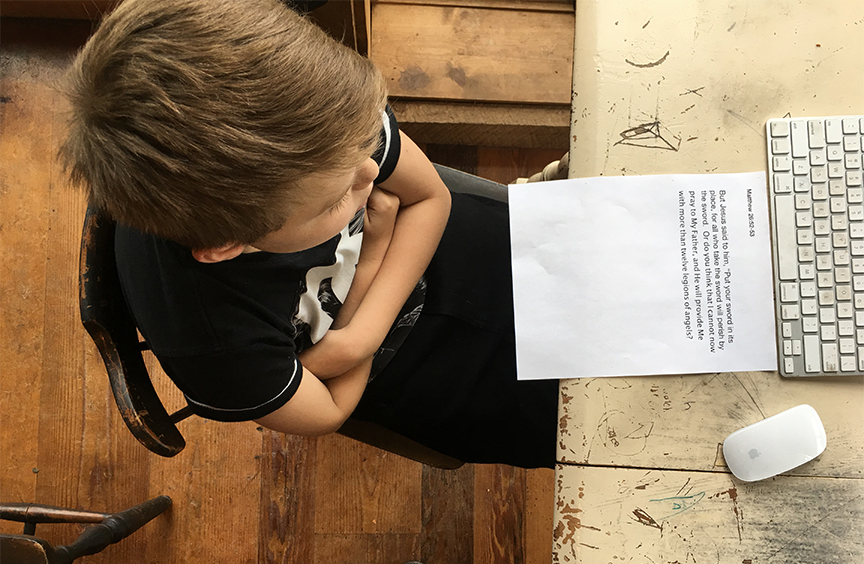 Last night at church group a sister told us what she learned about the power of submission and it reminded me of a conversation I had with my 13 year old Wyatt earlier in the day. He came into my office and told me he wanted to memorize a new bible verse. As I write this I'm overcome by thankfulness that my teen would desire this. With my eyes on my project, I distractedly suggest a popular verse like Jeremiah 29:11. He catches my full attention when he says he doesn't want popular. That's my boy!  So I think for a bit and remember how I was moved that morn by our Savior's words in Gethsemane:
"do you think that I cannot now pray to My Father, and He will provide Me with more than twelve legions of angels?"
‭
Those words get me every time and my soul soars to it's feet and wildly cheers WAAAAR!
(sometimes by body follows and the children start to squirm a bit)
Behold the Rider of the white horse! The One whose name is Faithful and True! The One who has the power to lay down His life and take it up again. Slaying evil with the breath of His mouth and destroying the enemy with His splendor. The Loving Warrior with eyes like fire who even in His darkest hour never once thought of abandoning His costly mission to save us.
Our Savior's willing submission to The Father was not weakness, but fierce, bloody, and victorious battle.
And He did it for us.