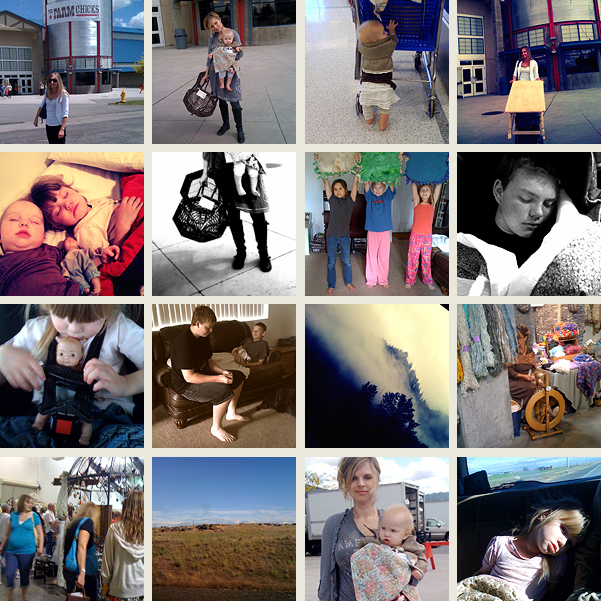 At the last minute we hopped in the jalopy and drove 6 hours to the Farm Chicks Show in Spokane. Me, my 4 girls and 3 stinky teenage boys.  Landon drove most of the way. I am a glutton for punishment, but I was determined to see what the Farm Chicks Show was all about and tempted by the thought of a visit with my sister, Anna.
I don't know which is a more dangerous driver:
me, sitting at the edge of my seat in fear
OR
a teenage boy, fearlessly weaving in and out of traffic at top speed
Neither is safe.
By the time we pulled into Anna's driveway at 9:30 pm, I was frazzled.  I woke up the next morning, frazzled.  I went to the show, frazzled.  That is how Julie from The Little Red Shop found me, I am sure she got a lovely photo of me….frazzled.
Friday morning, we dropped the 3 teenage boys(Landon, Riley and my little brother, Jacob) off at Silverwood Theme Park in Coeur d' Alene, then drove to the show.
The show is insane.  A junk lover's dream. Overwhelming. Crowded. Fabulous. 
I walked through the door and had a meltdown.  It was entirely too much for me.  Too many people, too much noise and too much good stuff.  I wasn't prepared.  I forgot what I needed for Windy Ridge.  I walked around in circles, dazed and confused.  Hazel wanted down.
Next time I wouldn't bring the baby.  I would bring a bigger truck and spend 2 whole days there.  Next time I wouldn't wear that skirt that made me look like an aged toddler.  SO odd, because usually I look so tall and skinny. Haha.
I am still dreaming about the treasures I left behind.  It's probably a good thing that I was overwhelmed or I might have bought one of everything.  I did get a few things and I love them, I will post photos soon.